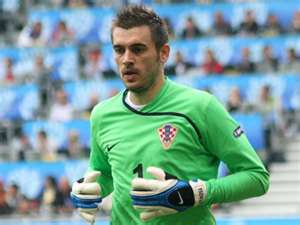 Stipe Pletikosa (pronounced
[stǐːpe plětikosa
]; born 8 January 1979) is a Croatian
football
goalkeeper
who plays for the
Russian Premier League
club
FC Rostov
and the
Croatian national team
, for which he has made 92 appearances.
[2]
Pletikosa began his career at Croatian club Hajduk Split. He was selected as first team goalkeeper for the 1998/99 season by then manager Ivan Katalinić, replacing the ageing Tonči Gabrić. Pletikosa's excellent reflexes and coordination lead to Hajduk fans nicknaming him 'octopus' (hobotnica). In 2002, he was named Večernji list Croatian player of the year; Zoran Simovic was the only goalkeeper to have won this award previously

Pletikosa made his Croatia debut as a 20-year-old against Denmark in 1999, winning plaudits for his cat-like reflexes and shot-stopping. But insecurity over the handling of high balls took a heavy toll at the 2000 European under-21 championship in Slovakia, where Croatia finished last in their group after Pletikosa conceded some soft goals.
Pletikosa worked hard on improving the weaknesses in his game and under former Croatia coach Mirko Jozić, he became his country's first-choice goalkeeper, playing in all three matches at the 2002 FIFA World Cup finals. The once nervous though talented Pletikosa has blossomed, making full use of every centimetre of his 1.93-metre frame and possessing a far greater assurance when dealing with difficult high balls.
He was also supposed to be Croatia's first goalkeeper at the UEFA Euro 2004 in Portugal, but sustained an injury a few days before the beginning of the tournament and the position of the team's first goalkeeper was taken by Tomislav Butina, who was up to that time his first reserve. Butina retained the position in the 2006 FIFA World Cup qualifying, so Pletikosa appeared in only two qualifying matches. Nevertheless, when the finals tournament started, Pletikosa was chosen over Butina, who had still been recovering from an injury sustained early in the year.
At UEFA Euro 2008, he was named Man of the Match in Croatia's opening victory against Austria, in which he made many saves to help his side to hang on to a very narrow victory after the Austrians began to completely dominate the Croatian outfit after the first, and only, penalty goal.
On 16 June 2008, during the UEFA Euro 2008 match between Austria and Germany, BBC pundit Alan Hansen stated his belief that Pletikosa had been "the best goalkeeper in the (UEFA Euro 2008) tournament" thus far, ahead of more established 'keepers like Petr Čech, Gianluigi Buffon and Iker Casillas, although his colleague Alan Shearer said that Edwin van der Sar had been equally impressive. However, despite these comments, Pletikosa was not highlighted as the best goalkeeper of the tournament. Those honours went to Buffon, Casillas and van der Sar, who were the three goalkeepers named in the Team of the Tournament.